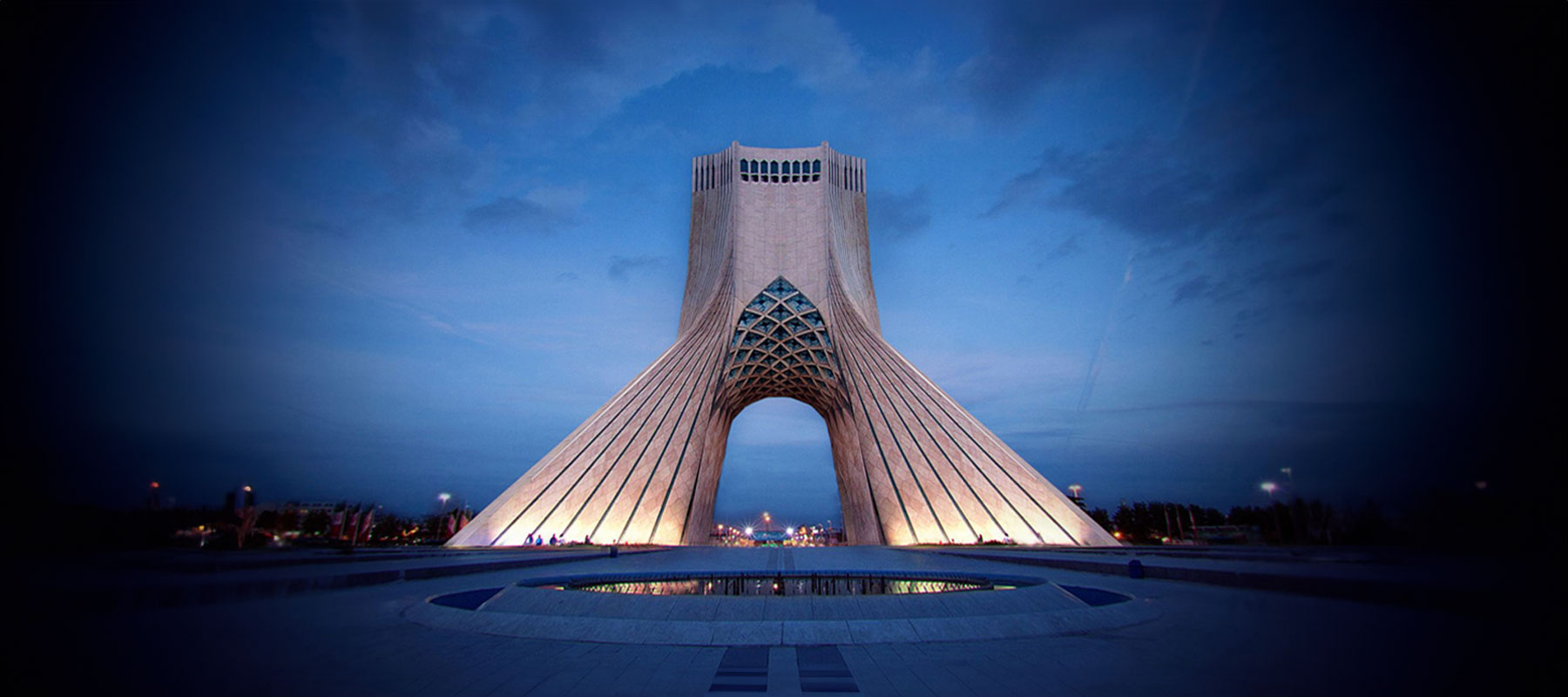 Azadi Square stands as a testament to the fusion of history and modernity in the heart of Tehran. Nestled against the backdrop of the magnificent Azadi Tower, this square beckons travellers and locals alike to immerse themselves in its cultural significance. The tower's distinctive architecture, a symbol of Iran's rich heritage, draws admirers from across the globe. The allure of Azadi Square is undeniable, as it unites past and present, inviting all who visit to experience the charm of Tehran's iconic landmark. As we embark on a journey to explore Azadi Square and its captivating sights, join us in unravelling the stories that have woven this historical tapestry. Stay tuned as we delve deeper into the legacy of this remarkable structure and the treasures it holds. And for those with a yearning to stand before this architectural marvel, look no further than the Qaaph website or application to secure your passage to Tehran and witness the magic of Azadi Tower in person.
Azadi Tower, an enduring symbol of Tehran's heritage, emerged from the creative mind of Hossein Amanat. At just 24 years old, Amanat's design triumphed over twenty-one competitors, securing the opportunity to craft a symbol commemorating the monarchy's 2500th anniversary. Initially known as Shahyad Tower, this remarkable structure was unveiled in 1350, its 45-meter framework is a fusion of architectural elements from both pre and post-Islamic eras.
This impressive structure occupies an oval plot covering 50,000 square meters. Reaching a height of 45 meters and spanning 63 meters in length, Azadi Tower accommodates 4 floors that can be accessed through two elevators or the 286 stairs nestled within two staircases. Crafted with meticulous precision, the tower's main doors are crafted from Hamadan granite, while the stones obtained from the Kurdish pearl mine infuse it with a sense of natural grandeur.
A Tapestry of Design and Significance
Azadi Tower's presence reverberates with symbolism and purpose, evidenced by its central placement within the sprawling Azadi Square. Drawing inspiration from both ancient and Islamic architectural traditions, the tower's symmetrical facades feature two pairs of grand arches that intersect to form a pristine white canvas against the sky. Amanat's intention to honour Iran's heritage and showcase its evolution is vividly captured in the central arch, mirroring the Kasri arch from the Sassanid era, and the broken arch above symbolizing the post-Islamic era.
The Turquoise-Tiled Dome
Adorning Azadi Tower's zenith, a magnificent dome graced with turquoise tiles echoes the elegance of Imamzadehs and tombs, further enriching the tower's heritage.Join us in Part 3 as we unveil the captivating attractions of each floor, offering a window into the past, present, and future of Iran's architectural magnificence. Plan your journey to this historical masterpiece via the Qaaph platform, ensuring your exploration of Azadi Tower is as seamless as it is unforgettable.
Journey through Azadi Tower's Floors
First Floor or Basement: The primary and noteworthy sections of Azadi Tower are situated on this level, encompassing attractions such as the Iranology Hall, Ancestors' Passage, Library, Hall of Mirrors, Ethnicities Gallery, Ancient Hall, Garden Gallery, Technology Corridor, Multi-Vision Hall, Small Cinema Hall, and Ceremonial Hall. Further details about these Azadi Tower features will be explored below.
Second Floor: This level primarily functions as an elevator exchange area. Positioned 23 meters above ground level, it showcases a distinct design with small windows flanked by two sloping concrete walls.
Third Floor: Situated at a height of 33 meters above ground level, this floor presents a concrete dome ceiling adorned with a sunburst pattern. A notable aspect is the use of white-colored concrete for both the ceiling and walls—a departure from the tower's previous construction. The amalgamation of traditional and modern architecture on this floor displays historical imagery.
Fourth Floor: Elevated at approximately 40 meters above Azadi Square's surface, this floor is distinguished by its captivating rectangular and vertical gaps. It features windows reminiscent of beehives, providing a panoramic view of Tehran reminiscent of ancient observation towers and historical castles.
Roof: Crowning the tower's summit is a resplendent turquoise-tiled dome. This particular dome style is also evident in the architecture of Imamzadeh shrines and mausoleums, adding an element of traditional charm to the tower's roof.
Revealing Azadi Tower's Inner Charms
Azadi Tower's allure extends beyond its exterior. Inside, a fusion of tradition and modernism creates a captivating ambience. Monumental stone lintels, each weighing 3.5 tons, grace the entrance. Ascending is an experience through open ceilings, connecting spaces seamlessly. Discover the inner marvels of Azadi Tower as we delve into its architectural wonders. Embark on this journey by obtaining a train ticket to Tehran via the Qaaph website or application, and embrace the inner splendour of this iconic tower.
Exploring Azadi Tower's Fascinating Spaces
Iranology Hall: Within Azadi Tower's complex lies the captivating Iranology Hall, spanning 1122 square meters. This space introduces visitors to Iran's diverse provinces, showcasing their unique climatic, economic, and cultural attributes. A U-shaped path on a conveyor belt guides visitors through a map adorned with replicas of Iran. As they journey, they'll be enchanted by historical, cultural, industrial, and religious centres, along with climatic features. Captivating water features represent the Caspian Sea, Persian Gulf, and Oman Sea, while a large aquarium and projector screens immerse visitors in Iran's artistic and cultural tapestry.
Passage of the Ancestors:Displaying historical works and artefacts, the Passage of the Ancestors greets visitors at Azadi Tower's entrance. This corridor features artistically lit showcases and stone accents, setting the stage for an immersive experience.
Azadi Tower Library:A tranquil oasis within the collection, the Azadi Tower Library spans 200 square meters. It houses over 11,000 volumes, including valuable references in various fields. Books encompass historical, artistic, social, cultural, and Islamic architecture topics, available in Persian, English, and French. This cultural haven invites membership for those eager to explore its literary treasures.
Hall of Mirrors: With mirrored showcases enhancing the exhibits' visual impact, the Hall of Mirrors houses 12 pavilions on both sides. From urban planning to sports, wildlife to the oil industry, this hall offers a panoramic view of Iran's diverse spheres. Notably, it features works of artists, handicrafts, and art training workshops.
Gallery of Relatives:Anthropology and handicrafts take centre stage in this semi-circular corridor housing eight showcases. Visitors gain valuable insights into various tribes' cultures as they traverse this engaging space.
Old Hall:Serving as the main museum, the Old Hall showcases exquisite objects within its 346 square meters. This lower-level hall uniquely accommodates the tower's elevator and main staircase. Elevators on this floor grant access to the tower's upper levels.
Negar Khane Bostan:Adjacent to the library, the Bostan Gallery boasts a spacious and well-lit hall. It hosts exhibitions of visual works and art education workshops, providing a serene backdrop for artistic exploration.
Technology Corridor:A hub of modern attractions, the Technology Corridor features a robot pianist, an answering robot, and an intelligent visual system. Iranian engineers crafted the pianist robot, showcasing its prowess in playing the piano using air pumps and programmed algorithms. The answering robot provides insights into the tower's history and architectural features.
Small Cinema Hall:Offering a virtual atmosphere through motion effects, the Small Cinema Hall boasts 51 seats. Built-in 2008, it's equipped with top-tier facilities and lighting for an immersive movie-watching experience.
Ceremonial Hall: Azadi Tower's Ceremonial Hall hosts cultural events and press conferences, underscoring its versatile role in accommodating important gatherings.
From cultural exploration to technological marvels, Azadi Tower's array of spaces beckons visitors to embark on a journey of discovery.
Plan Your Visit to Azadi Square and Tower
Visiting Hours and Fees:Azadi Tower welcomes guests daily from 9 am to 4 pm, except Saturdays and Shahadat days. Entry fees range from 10,000 to 25,000 Tomans.
Access by Vehicle: Note, there's no public parking at Azadi Complex. Avoid fines by using public transport. If driving, access from Janaj, Lashgar, Saadi Highways, or Azadi Street.
By Bus:Many buses end at Azadi Square. Take those to West Terminal. For east Tehran, use high-speed buses or BART Tehranpars to Azadi.
By Metro:Fastest via metro: Azadi Square Station on metro line 4 (Shahid Kolahdoz line to Eram Sabz).
By Taxi:Azadi Line taxis await at Sadeghieh and Revolution Square to whisk you to Azadi Complex.
Explore Azadi Square and Tower effortlessly through these convenient transport options.
Qaaph invites you to embark on an enriching journey through time and culture at Azadi Tower and Square. Delve into the heart of Tehran's heritage as you uncover the remarkable stories behind this iconic symbol. Immerse yourself in the fusion of history, art, and architecture that awaits within the walls of Azadi Tower. Discover the intricate patterns, captivating exhibits, and diverse spaces that narrate Iran's compelling narrative. Join us in unraveling the mysteries of the past while basking in the splendor of this architectural masterpiece.
Tags
Comments
Total 0 comment in the post