Qaaph Tourist Card , your all-in-one payment solution in Iran
Accepted at various shops, restaurants, hotels, and attractions equipped with POS devices, it provides seamless transactions throughout your journey. With access to all ATMs, you can easily withdraw cash whenever needed. Additionally, the card's online usability enables hassle-free hotel and flight bookings, making it your trusted travel companion. Embrace the excitement of exploration with peace of mind, knowing the Qaaph Tourist Card is there to simplify your summer adventures in Iran.
A World of Benefits - Your Ticket to Convenience and Security!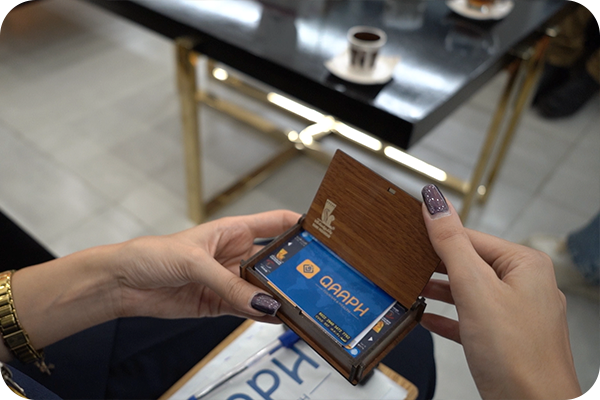 SignUp in the website
Sign up online by providing basic personal info, verify identity through a verification code, and fill the forms for card registration
After you have registered on the site and filled in the necessary information, at this stage your information will be processed and your card will be issued.
Send the card to the entered address
After your application is successfully approved, the card will be promptly issued and delivered to the address you registered during the signup process.
Activate the card
At this stage, to verify your identity, you must send us a photo with your passport and card in hand
Security & Verification
At Qaaph, your security is paramount. To safeguard your transactions and identity, we have a simple yet effective verification process. Upon receiving your Qaaph Tourist Card, just snap a picture with the card in one hand and your passport in the other. Rest assured, your personal information will be in safe hands, allowing you to focus solely on making unforgettable memories in Iran.
Tourist Card for Only 20 Euros!
To get the Qaaph Tourist Card, visit qaaph.com, fill out the registration form with personal and travel details, and make a one-time payment of 20 Euros. This fee grants access to benefits like easy transactions, ATM withdrawals, and online bookings in Iran. After registration and payment confirmation, you'll receive your Qaaph Tourist Card, ensuring convenient and secure financial support during your travels in Iran.
Verification
Qaaph prioritizes traveler security by implementing a seamless card verification process. When you receive your Qaaph Tourist Card, we require a photo of you holding the card and your passport to confirm your identity, prevent unauthorized usage, and deter fraud. Your personal information is kept confidential and handled with care. With Qaaph's strong card verification, you can travel through Iran confidently, knowing your transactions and funds are secure.
Rules and limitations
With the Qaaph Tourist Card, you have no deposit limit, and recharging is easily done through exchange offices. The withdrawal limit is 250 million Tomans, and the card is valid for one year, with the option to refund any remaining balance. Enjoy unrestricted financial freedom while exploring Iran with this convenient and flexible travel companion.
Make Your Trip Unforgettable - Get Your Qaaph Tourist Card Today!
Don't let anything hold you back from exploring the magic of Iran. Grab your Qaaph Tourist Card now and embark on an adventure like never before. Experience the beauty of Persia, immerse yourself in rich culture, and create memories that will stay with you forever. Trust Qaaph to make your dream trip a reality!
At Qaaph, we take immense pride in being the trusted platform for your extraordinary journey to Iran. With our reliable and efficient services, we're committed to enhancing your travel experience and helping you create memories that last a lifetime.
Frequently Asked Questions